Welcome to Bargain Microscopes
Bargain Microscopes offers a wide selection of high quality microscopes at discounted bargain prices. Through the years of selling microscopes, we have found only a few customers who did not want a bargain, but every customer wanted good quality optical microscopy equipment. We carefully select, test, and assemble microscopy equipment from a variety of manufacturers to bring you our huge selection of good quality microscopes and microscope accessories. You can be assured that if it is in our microscope product line, then it is a good quality optical device. You have came to the right place to save lots of money on high quality microscopy items.
Our diverse optical product line covers equipment such as monocular and binocular student microscopes, high power compound light biological microscopes, low power stereoscopic zoom objective microscopes, boom stand mounted microscopes for repair and servicing circuit boards, metallurgical microscopes for metallurgy testing, polarized light microscopes, forensic comparison microscopes, wall and screen projection microscopes, video inspection microscopes, phase contrast microscopes, ore microscopes, embryo transfer microscopes, fluorescence microscopes, portable field nature microscopes, darkfield microscopes, inverted tissue culture microscopes, toolmakers microscopes, multi-head teaching microscopes, trinocular microscopes for photography, and many microscope accessories and microscope parts.
We service what we sell. Be careful buying a microscope from a dealer that may not be willing to help you with your post-sale technical questions about the microscopes operations and microscopes features. Our sales department consists of highly skilled professionals able to guide you through the setup, alignment, and training on your new precision optical instrument. And should you need microscope repair and microscope servicing, we carry a full line of microscope bulbs and microscope parts and honor the full warranty of the equipment. When you buy a microscope from us, you buy from a reputable microscope dealer who is able to give you microscope support services as you may need it. We eliminate the risk from purchasing a microscope.
Call our Sales Hotline at

Email or
For fast, simple and straight to the point answers to your microscope inquires, call our experienced microscope sales department. You have a specific microscope application with unique needs. We have the microscopy equipment and technical knowledge to support those needs, and at an unbeatable low discount bargain price. We have a huge selection of high quality discount bargain microscopes and it can be complicated understanding all the differences in optical equipment. So we encourage you to call us today. Our microscope technicians and sales members take pride in making sure you get the best microscope for your specific microscopy application at a bargain price your budget can afford. Call today, we are always happy to assist you.

USB computer connected 3Mpixel camera is included. Laptop is not included..
Professional Low Power Forensic Comparison Trinocular Microscope!
Great for Low Power Microscopic Comparison of Specimens!
Image of Both Specimens is shown Side-By-Side for Detailed Analysis.
Perfect for Crime Scene Investigation and Forensic Science!
Analyze and Compare Bullets, Bullet Cartridge Casings, Scratch Marks, Wires, Fibers, Hair, and Paint Fragments.
Polarization Capable: Includes both Polarizer and Analyzer for viewing under Cross Polarization Conditions. This enhances microscope features such as tiny scratches, and also allows comparing polarization properties of specimens.
Each side of the unit is a fully functional microscope, with the ability to independently set the magnification and illumination.
Two Separate Specimens can be Studied Simultaneously with a Split Screen Viewing.
The Comparison Bridge brings Both the Beam Paths together. The two Images of the Objects under Examination can be Observed in the Field of View in Multiple Ways. They can be Observed together, Side-By-Side, Separated by a Thin Line that can be Moved to Either Side Allowing More or Less of Either Object to be Viewed. On the Extremes, the Field of View can show Only the Left Object or Only the Right Object. The Viewing also has the Capability to Overlap the Images, as well as Control the Amount of Overlapping.
Includes Two Photo Ports, One for Still Camera and One for CCD Video Camera!
view details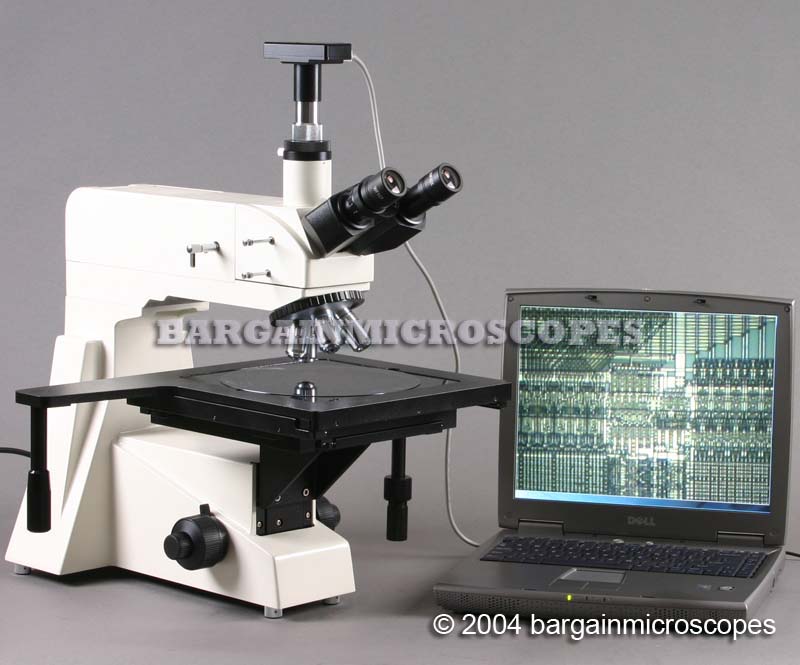 USB computer connected 3Mpixel camera is included. Laptop is not included.
Excellent Quality Upright Trinocular Professional Metallurgical – Metallographic Microscope!
Ideal for Identification and Analysis of the Structure of Different Metals and Alloys.
Super Sized Microscope! This is a Huge Microscope and Heavy Duty!
Extra Large Stage with an Incredible Maximum Stage Travel of 11 Inches (X-Direction) x 9 Inches (Y-Direction).
The Large Travel is Suitable for Examining Large Silicon Wafers and Other Sizable Specimens as Most Scopes would Require the Specimen to be Relocated in Order to View it Completely.
Upright Design (Objectives Above the Stage).
Stationary Head – Movable Stage. Different Applications Require Different Arrangements. This Scope has its Stage Move Up/Down to Focus. We Carry a Similar Scope that Instead has its Head move Up/Down to Focus.
Great for Detailed Inspection of a Metallic Surface.
Perfect for Metallurgical Laboratories, Foundries, Silicon Wafer Inspection, Industrial Applications, and Quality Control Labs!
Excellent Bright and Clear, High Contrast Images through High Quality Optics.
Great for Viewing Opaque Surfaces – Light Travels Through the Objective and Reflects off Surface of Object and Back Into Objective!
No Worries about how to get Light to the Specimen's Surface!
Epi-Illumination Microscopy System: Light From Internal Source goes through the Horizontal Top, Reflects Down through Objective to the Specimen, Reflects off the Specimen, and Back into the Objective and then to the Eyepieces. Also known as Reflected Light Microscopy.
Includes Polarizer and Analyzer! View your Metallic Specimens under Cross Polarization Conditions using Epi-Illumination!
Great Economical Price! Priced Thousands Lower than Competition!
view details
Price: $ 3,299.98
Model: bm027e000m
Shipping/Handling/Insurance: $ 89.98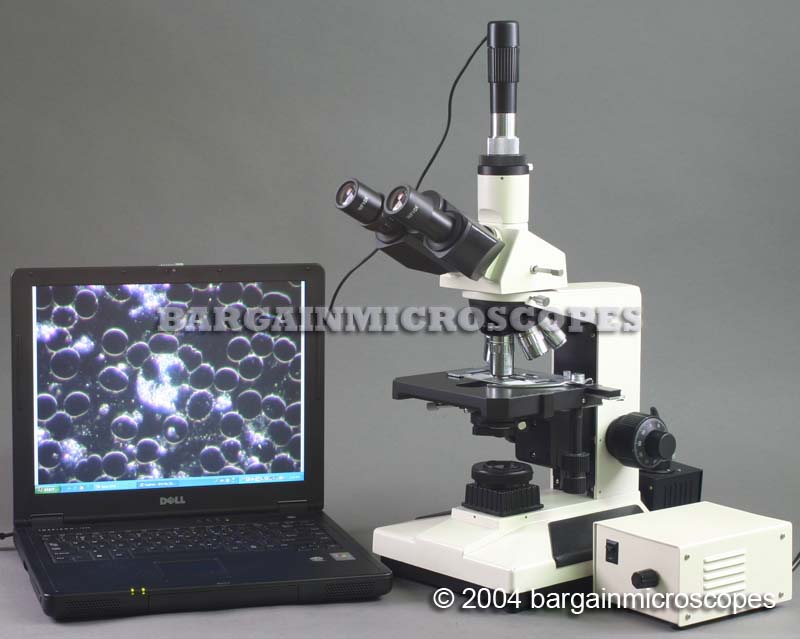 USB computer connected 3Mpixel camera is included. Laptop is not included.
Monitor not included.
Ultra-Darkfield Medical Live Blood Analysis Microscope!
Ability to Obtain True Ultra-Darkfield Illumination using a Super High Intensity 350 Watt Light!
Get the Best of Both Major Microscopy Techniques: Ultra-Darkfield and Brightfield.
Perfect for Viewing and Analyzing Live Blood Cells Using Ultra Darkfield Microscopy!
Includes Brightfield Capability for Analyzing Dry Blood Layers!
Great for Alternative Medicine Doctors, Veterinarians, Health Clinics, and Medical Technicians.
Don't buy the Competition's High Priced Systems at $10,000. We have what you need for less!
Our Special Fiber Optic Illuminator is over Twice the Intensity as Competition, resulting in Brighter Imaging of Darkfield Microscopy Features in the Blood.
Darkfield Iris built into the two oil immersion objectives, 50x and 100x, allowing more fine adjustment using darkfield microscopy.
view details