These are Higher Quality Biological Microscopes for Medical and Research use.
Call our Sales Hotline at

Email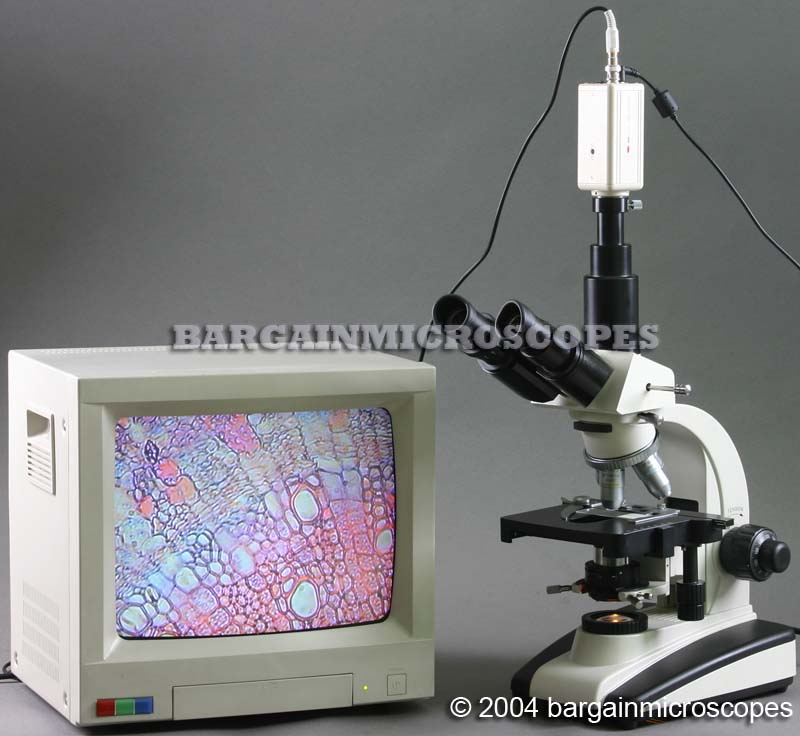 Multi-function USB computer connected camera with NTSC TV video output is included. Laptop/Monitor are not included.
Superior Quality Infinity Corrected Professional Compound Trinocular Microscope!
Infinity-Corrected Objectives for Better Quality!
NOT Student Grade! This is a More Expensive Professional Grade!
If Price is Everything to You, Please Close this Ad, as This Scope is Not for You.
If it is Important that You get a High Quality Image, without Spending $3000 – $4000 from a Name Brand, then Continue!
This has the Higher Grade, More Expensive Semi-Plan Objectives for Optimal Quality!
Great for Doctors, Veterinarians, Medical Technicians, Scientists, Research Labs.
Compare to Similar Units costing $3000+ with name brands!
Excellent Bright and Clear Images through High Quality Optics.
Compound light microscope for use with viewing biological specimens on slides.
Includes USB microscope camera for connection to computer. Computer not included.
Style of camera may be different from photo.
View specimens on your cctv monitor. Camera for video microscopy included.
Monitor not included.


Tilia Stem
Photo Thru 10x Eyepiece
40x Objective
400x Total Magnification
Clear Optics!

Dog Esophagus
Photo Thru 10x Eyepiece
40x Objective
400x Total Magnification

Fruit Fly
Photo Thru Trinocular Port
4x Objective


House Fly Compound Eye
showing large number of facets
Photo Thru 10x Eyepiece
Under 40x Objective
400x Total Magnification
Unique Ability to have image in both oculars and photography port simultaneously. This is perfect for training as the binocular eyepieces can be viewed by the Instructor, and students can watch the viewing screen. Most trinocular microscopes lose light in one ocular when light is diverted to the photography port. This microscope has the ability for 100% of light in both oculars, or divert light and get 20% light in oculars and 80% in trinocular.
Features 30mm eyepiece ocular tubes! Most compound microscopes are 23mm. The larger size allows for less eye strain, much easier viewing, and a larger and better quality image! After looking into these awesome eyepieces, you would never want a smaller 23mm ocular! Before buying a different scope, ask if it has the cheap 23mm oculars!
Video Port and Camera Details
Dual Usage Camera Included! Connect to both CCTV Monitor/TV or Computer!
This is a unique two-in-one camera that allows both common microscope camera outputs. Normally, you need two separate cameras to get this functionality.
Capture 720×576 pixel digital still and digital video via the USB input on your laptop computer.
Output live video to a CCTV monitor or normal Television using the NTSC composite video-out giving 420 TV lines and 370K pixels. PAL format available upon request.
Microscope camera kit includes dual-usage camera, USB cable, Video cable with RCA jacks, autovolt power adapter, and Windows software.
Free Beginner Microscope Accessory Kit
We include a variety of free accessories that are necessary equipment for using a microscope. Without high quality stained prepared slides, you have nothing to begin looking at. And you must have blank slides and cover slips to begin making your own specimens. These microscope accessories are not normally included with a microscope set and typically add a significant extra cost to having a complete laboratory microscopy system.
FREE BONUS: We will include 50 prepared microscope slides to get you started learning and viewing specimens immediately. Prepared slide categories include zoology, biology, botanical, etc.
FREE BONUS: We will include a pack of 50 blank glass microscope slides so you can experiment and take your own specimens.
FREE BONUS: We will include a pack of 100 new glass 22mm square microscope cover slips to on top of the blank microscope slides.
FREE BONUS: Traveling / carrying case is included so you can travel with your microscope. This is a great accessory for students who want to bring to the classroom. It also provides and excellent method of storing the instrument. Perfect for those applications requiring transporting the unit.
Eyepieces and Magnification
Eight Magnifications: 40x, 64x, 100x, 160x, 400x, 640x, 1000x and 1600x.
Two Eyepiece Sets Included: 30mm Diameter Wide Field 10x and Wide Field 16x.
Four Semi-Plan DIN Infinity Corrected Objectives: 4x, 10x, 40x, 100x (Oil Immersion).
These Semi-Plan Objectives are Better Quality and More Expensive than the Cheaper Achromatic on most Scopes.
Spring Loaded 40x and 100x Objectives to Protect Slides.
Reverse Facing Quadruple Nosepiece! A Better Design that allows Easier Access to the Slides since Objectives are Pointed Out of the Way!
High Wattage Variable Intensity 30W Tungsten Halogen Transmitted Base Illumination.
If you find a cheaper scope, ask if it is made to accomodate the higher wattage 30W bulbs that provide a Brighter Image. It is Important for Regular Brightfield work and Essential for Phase Contrast and Darkfield.
Koehler Illumination System with Focusable Field Diaphragm on Base to allow for Better Control and more Efficient Use of Light Source. This gives Improved Image Quality!
Koehler is Important for Regular Brightfield Work and Essential for Phase Contrast and Darkfield.
Few Scopes have the More Expensive Koehler Illumination System. If you see a Cheaper Scope, ask if it has Koehler.
30 Degree Inclined Trinocular Head (Easier to View than 45 Deg.) Rotatable 360 Degrees.
Adjusts to the Distance Between your Eyes: 55 to 75mm InterPupillary Distance.
Diopter Adjustment to Correct for Your Specific Vision Needs.
Condenser – Iris – Filters
1.25 N.A. Abbe Substage Condenser, Condenser Movement Knob, Iris Diaphragm and Swing-Out Filter Holder.
Condenser Alignment Screws.
Rack and Pinion Steel Gears for Easy and Better Condenser Movement.
Three Filters Included: Blue, Green, Yellow.
Large Graduated Mechanical Movable (up/down and longitudinal Y-direction) Stage: 153 x 145mm.
The Stage Movement in the Longitudinal Y-Direction is a Great Option Found Only on More Expensive Models!
Low Position Coaxial X-Y Slide/Stage Movement Knobs – Range of Movement: 80mm (X-Direction – Slide Movement) x 52mm (Y-Direction – Stage Movement).
Coaxial Fine and Coarse Focusing Knobs on Both Sides of Microscope.
Coarse Adjustment Travel Range: 20mm. (Stage Movement Distance Up/Down).
Fine Adjustment Division: 0.002mm.
Adjustable Lock Ring Stop to Limit Coarse Range to Protect Slides.
Tension Adjustable Coarse Focusing.
Frame – Base – Size – Weight
Total Overall Height of Microscope: 495mm.
Instrument Weight: 18 lbs.
Includes: 1x cmount (for ccd camera), phototube, instructions, dust cover, bottle of immersion oil, spare 30W halogen bulb and fuse.
Cupping Rubber Eye Guards for Blocking Stray Light.
Manufactured under ISO: 9001 Standards.
110 VAC Power Requirement (Contact us about 220V availability).
High Quality Solid Construction!
Precision Made Glass Optics!
Brand New, Never Used!
Warranty is 5 years on all microscope equipment.
The microscope warranty covers problems arising from normal usage.
We will repair or replace your defective microscopy equipment as needed during the warranty period.
Optional Plan Phase Contrast Kit.
Optional Darkfield Illumination Kit.
What are you waiting for? Buy Now!
---
Call our Sales Hotline at

or
Email sales@bargainmicroscopes.com