We have 2 Head, 3 Head, even 5 Head Microscopes for Teaching applications. Everybody views the same image! Look at the Huge price savings!
Call our Sales Hotline at

Email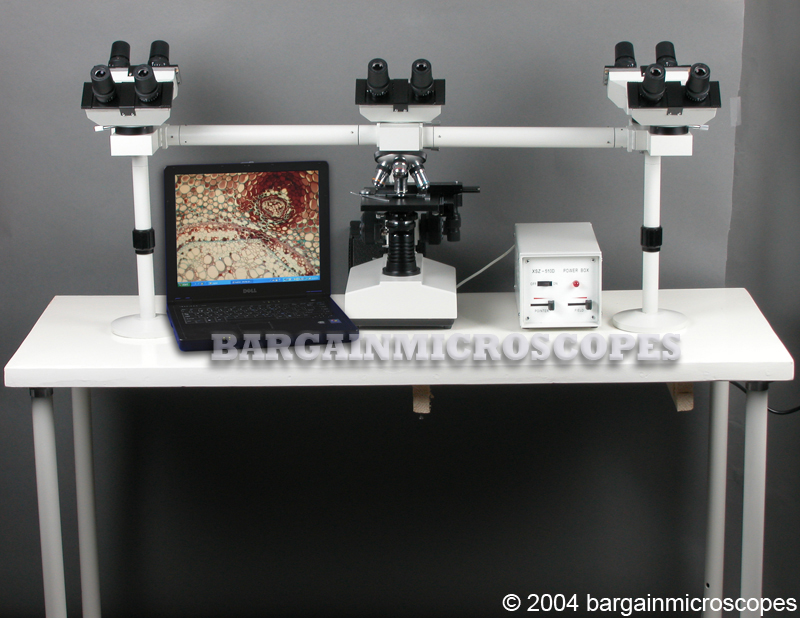 USB computer connected 3Mpixel camera is included. Laptop is not included.
Five Head Professional High Power Teaching – Training Microscope!
Perfect for any application needing Simultaneous Viewing by up to Five People!
Includes Full Size Work Table, 47x18x 28 Inches High.
Great for Schools and Research Labs.
Clear and Bright Biological Images through Premium Optics!
Great Economical Price! Priced Thousands Lower than Competition!
Biological specimens easily viewed on glass microscope slides with this compound microscope.
USB computer connected camera included. Computer/Laptop not included.
Shape of microscope camera may vary from what is shown.


Pine Root
Student's Station With Pointer Arrow Superimposed
Photo Thru 10x Eyepiece 10x Objective
100x Total Magnification
Lowest Price Anywhere!

Ranunculus Root
Teacher's Station
Photo Thru 10x Eyepiece
10x Objective
100x Total Magnification
LED Pointer arrow with variable intensity light, superimposed on viewing field of all stations.
Pointer arrow points to the same location on all five microscope heads.
Pointer arrow can be moved out of the viewing field as desired.
USB Camera Specifications
High Resolution 3.1 MegaPixel Digital Camera System.
Complete Digital Microscopy Solution Included.
Capture high resolution digital microscope images, 2048×1536 pixels.
View and record full motion live video microscope images. Frame size options for video mode: 2048X1536 (up to 11 FPS, depending on PC), 1024 X 768, 640 X 480, 512 X 384.
Computer connected digital microscope camera connects via USB2.0. Includes USB cable and MS Windows software.
Color DSP built into camera provides sharp quality color images. Image sensor size is half inch.
Includes measuring capability with the software.
Eyepieces and Magnification
Four Magnifications: 40x, 100x, 400x, and 1000x.
Eyepiece Set Included: Wide Field 10x.
Four DIN Achromatic Objectives: 4x, 10x, 40x, 100x (Oil Immersion).
Spring Loaded 40x and 100x Objectives to Protect Slides.
High Power 100W Halogen Variable Intensity Transmitted Light in External Housing.
External Power Supply for Base Lighting and Light for LED Pointer Arrow.
Head – Interpupillary Distance – Diopter
Trinocular Head (Photo/Video Port) on Teacher's Station Plus Four Binocular Student Heads
45 Degree Inclined Heads, Rotatable.
Adjusts to the Distance Between your Eyes: 55 to 75mm InterPupillary Distance.
Diopter Adjustment on Both Oculars of all Scopes. Use for Adjusting the Focus on Training Stations.
Condenser – Iris – Filters
1.25 N.A. Abbe Substage Condenser, Condenser Movement Knob, Iris Diaphragm and Swing-Out Filter Holder.
Filters Included: Blue and Green.
Coaxial Fine and Coarse Focusing Knobs on Both Sides of Microscope.
Adjustable Lock Ring Stop to Limit Coarse Range to Protect Objectives and Specimens.
Tension Adjustable Coarse Focusing.
Includes: Two Extra 24V100W Bulbs, Two Fuses, Bottle of Immersion Oil, and Dust Cover.
Ships in Molded Styrofoam Container for protection.
Manufactured under ISO: 9001 Standards.
110 VAC Power Requirement (Contact us about 220V availability).
High Quality Solid Construction!
Precision Made Glass Optics!
Brand New, Never Used!
Warranty is 5 years on all microscope equipment.
The microscope warranty covers problems arising from normal usage.
We will repair or replace your defective microscopy equipment as needed during the warranty period.
What are you waiting for? Buy Now!
---
Call our Sales Hotline at

or
Email sales@bargainmicroscopes.com