Having Eyestrain or Neck/Back Pain when viewing through a scope for hours each day? Try a Video Zoom Microscope! Use it for Ergonometric purposes, or to demonstrate on a monitor for All to See!
Call our Sales Hotline at

Email

Price: $ 200.00
Item code: A149
Shipping/Handling/Insurance: To be determined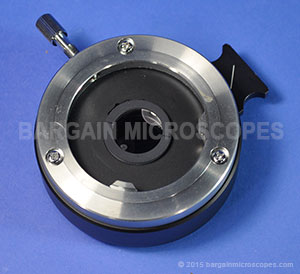 Description:
Nikon Polarizer for Microscope.
Intermediate section.
Fits above frame and below head.
Has polarizing filter that slides in or out.
Not sure which model this is for.
This has the 49mm OD dovetail fitting.
Made in Japan.