Having Eyestrain or Neck/Back Pain when viewing through a scope for hours each day? Try a Video Zoom Microscope! Use it for Ergonometric purposes, or to demonstrate on a monitor for All to See!
Call our Sales Hotline at

Email

Price: $ 250.00
Item code: A140
Shipping/Handling/Insurance: To be determined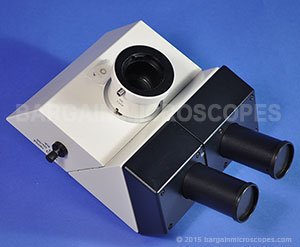 Description:
Trinocular Head for Leica Microscope.
This needs repair. It has a small broken part inside. So buy it only if you need it for parts.
Has top trinocular port.
Leica part number 551505.
Sold as-is. No returns.