Welcome to Bargain Microscopes
Bargain Microscopes offers a wide selection of high quality microscopes at discounted bargain prices. Through the years of selling microscopes, we have found only a few customers who did not want a bargain, but every customer wanted good quality optical microscopy equipment. We carefully select, test, and assemble microscopy equipment from a variety of manufacturers to bring you our huge selection of good quality microscopes and microscope accessories. You can be assured that if it is in our microscope product line, then it is a good quality optical device. You have came to the right place to save lots of money on high quality microscopy items.
Our diverse optical product line covers equipment such as monocular and binocular student microscopes, high power compound light biological microscopes, low power stereoscopic zoom objective microscopes, boom stand mounted microscopes for repair and servicing circuit boards, metallurgical microscopes for metallurgy testing, polarized light microscopes, forensic comparison microscopes, wall and screen projection microscopes, video inspection microscopes, phase contrast microscopes, ore microscopes, embryo transfer microscopes, fluorescence microscopes, portable field nature microscopes, darkfield microscopes, inverted tissue culture microscopes, toolmakers microscopes, multi-head teaching microscopes, trinocular microscopes for photography, and many microscope accessories and microscope parts.
We service what we sell. Be careful buying a microscope from a dealer that may not be willing to help you with your post-sale technical questions about the microscopes operations and microscopes features. Our sales department consists of highly skilled professionals able to guide you through the setup, alignment, and training on your new precision optical instrument. And should you need microscope repair and microscope servicing, we carry a full line of microscope bulbs and microscope parts and honor the full warranty of the equipment. When you buy a microscope from us, you buy from a reputable microscope dealer who is able to give you microscope support services as you may need it. We eliminate the risk from purchasing a microscope.
Call our Sales Hotline at

Email or
For fast, simple and straight to the point answers to your microscope inquires, call our experienced microscope sales department. You have a specific microscope application with unique needs. We have the microscopy equipment and technical knowledge to support those needs, and at an unbeatable low discount bargain price. We have a huge selection of high quality discount bargain microscopes and it can be complicated understanding all the differences in optical equipment. So we encourage you to call us today. Our microscope technicians and sales members take pride in making sure you get the best microscope for your specific microscopy application at a bargain price your budget can afford. Call today, we are always happy to assist you.

Price: $ 800.00
Item Code:515
Shipping: To be determined
Description:
This is a unique style of microscope.  It is designed to resemble and operate like an upright microscope, however, it is really an inverted.  The objectives are facing up and the unit can be used for viewing live culture specimens in the bottom of a petri dish.  It can also be used to view biological specimens on common slides, just by turning them upside down.
Photography Port:
Includes a trinocular photography port on the top of the head for attaching digital USB and other types of microphotography devices.
 Phase Contrast Microscopy:
Includes a slider with three openings. One opening should be left blank for brightfield.  The other opening currently has nothing in it but could use another phase contrast annulus.  One opening has a phase annulus for phase "1a, S95".
Objectives:
Does not include any objectives.
Illumination:
Rear mounted lamp housing. Marked Type 307-150.001.12V max 100W.Leitz #514725.
Missing the external power supply box for the lamp.  These power supplies can be found. Just search for one giving a 12V output and 100W or higher power rating.  Also, match up the plug adapter. This one uses the standard two round prongs.
General Notes:
Frame is marked: Type 090-127-017. Leica Mikroskopie&Systeme GmbH Wetzler.
Made in Germany.
5-Place Quintuple Nosepiece. Smooth turning operation with positive click-stops.
Eyepiece Pair: LeitzWetzlar Germany #519750. PeriPlan 10x/18 M. High eyepoint (okay to wear eyeglasses during operating).
Condition:
This is a used microscope and sold in as-is condition.
What are you waiting for? Buy Now!
Call our Sales Hotline at

or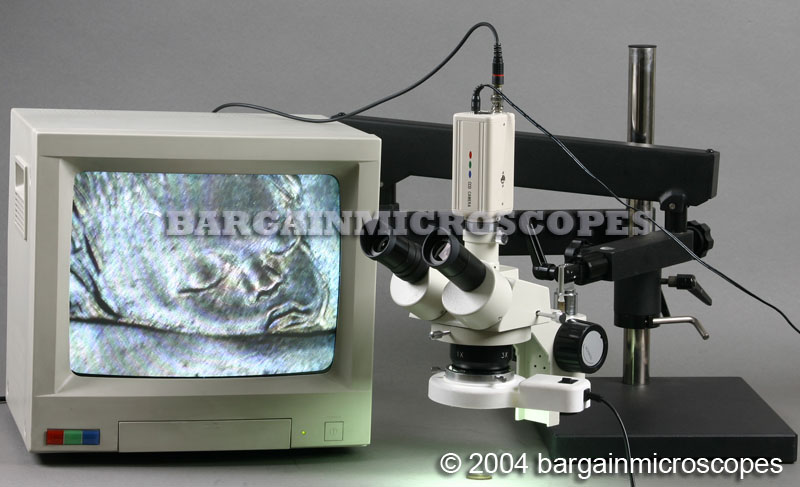 Multi-function USB computer connected camera with NTSC TV video output is included. Laptop/Monitor are not included.
Stereo Trinocular Microscope Mounted on Articulating Boom Stand!
Ideal for doing Circuit Board Work, Soldering, Examination of large specimens, and Engraving. Great for any job doing tiny intricate work. Also fine for simple inspection.
Great Quality Imaging at a Super Low Price!
view details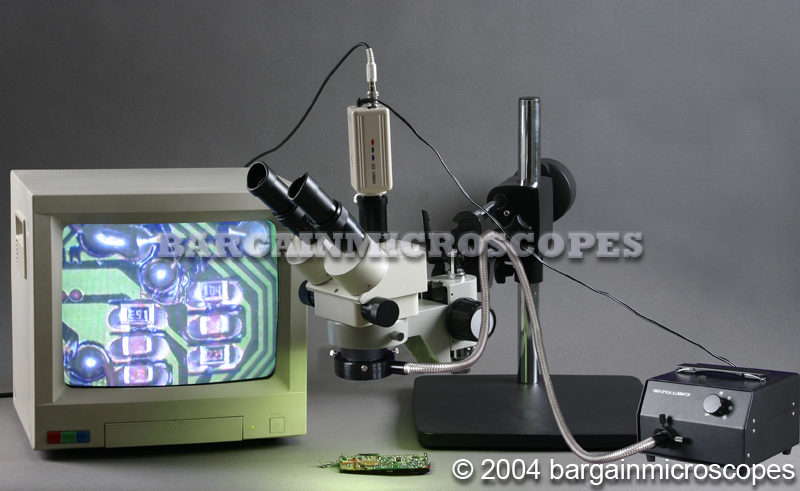 Multi-function USB computer connected camera with NTSC TV video output is included. Laptop/Monitor are not included.
Boom Stand Mounted Stereo Trinocular Zoom Microscope!
Great for Repair of Small Items or for Circuit Board Repair and Rework!
Bright and Clear 3-D Stereoscopic Images through High Quality Zoom Optics!
Great Economical Price! Priced Hundreds Lower than Competition!
view details