Boom Mounted - Dual Arm Microscopes
Call our Sales Hotline at

Email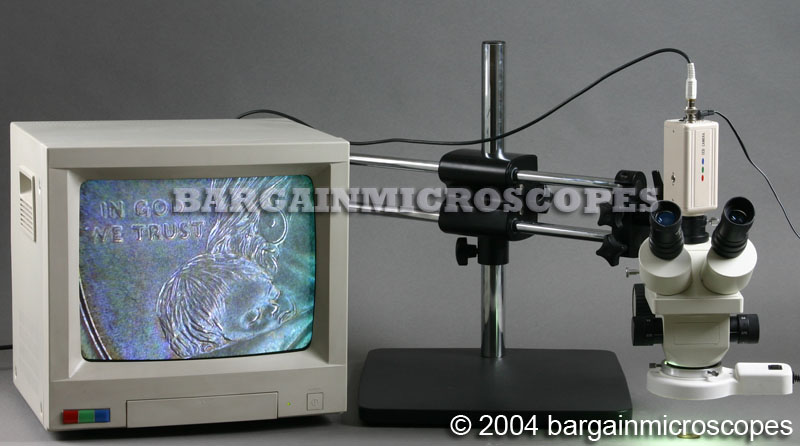 Multi-function USB computer connected camera with NTSC TV video output is included. Laptop/Monitor are not included.
Boom Stand Mounted Stereo Trinocular Zoom Microscope!
Great for Repair of Small Items or for Circuit Board Repair and Rework!
Bright and Clear 3-D Stereoscopic Images through High Quality Zoom Optics!
Great Economical Price! Priced Hundreds Lower than Competition!
Heavy double arm microscope stand for sturdy mounting of stereoscopic microscope head.
Laptop NOT Included.
USB Camera – PC Connectivity.
USB Camera IS Included.
Connects Directly to Computer!
Monitor NOT INCLUDED.
CCD video camera is included.

Circuit Board
Photo Through 10x Eyepiece
Taken Using Digital Camera


US Penny
Photo Through 10x Eyepiece
10x Total Magnification

US Stamp – Ship
Photo Taken Thru Trinocular Port
7.5x Magnification
Camera Zoom In.

Ring Stones
7.5x Magnification
Digital Camera at Full Zoom In!
Camera Equipment Included
Dual Usage Camera Included! Connect to both CCTV Monitor/TV or Computer!
This is a unique two-in-one camera that allows both common microscope camera outputs. Normally, you need two separate cameras to get this functionality.
Capture 720×576 pixel digital still and digital video via the USB input on your laptop computer.
Output live video to a CCTV monitor or normal Television using the NTSC composite video-out giving 420 TV lines and 370K pixels. PAL format available upon request.
Microscope camera kit includes dual-usage camera, USB cable, Video cable with RCA jacks, autovolt power adapter, and Windows software.
Boom Stand Specifications
Extra Sturdy Boom Stand for Maximum Versatility and Working Area!
The Dual Arm with Counterweight on this Boom Stand gives Better Stability than a Normal Stand.
Multi-Axis Rotation: This Boom Stand can rotate the scope head on any angle to view hard to see places. This is something that few booms can do. For example, if checking solder connections on a circuit board, this head can be rotated for better inspection.
Eyepieces and Magnification
Range of Zoom 3.5 – 70x magnification (using both eyepiece sets and bottom lens).
Including eyepieces: Wide-field 10x and Wide-field 20x.
Turning the zoom knob gradually increases or decreases magnification as needed and is much better than a fixed magnification style microscope.
A bottom 0.5x reduction lens is included. This is needed to increase the working distance of the scope so tools and hands have enough room for working.
Includes Fluorescent Ring Light for Bright and Even Illumination.
Spare ring fluorescent bulb is included.
Head – Interpupillary Distance – Diopter
45 Degree Inclined Trinocular Head.
Adjusts to the Distance Between your Eyes: 50 to 80mm InterPupillary Distance.
Diopter Adjustment on Both Oculars to Correct for Your Specific Vision Needs.
Focusing and Working Distance
Easy Large-Sized Focusing Knobs on Both Sides of Focusing Holder.
Rack and Pinion Steel Gears for Focus Movement.
Nice Working Distance to Allow Room for Your Tools. (Distance from Bottom of Lens on Head to Top of Object in Focus) 85mm – w/o Bottom Lens on, (124mm w/ Bottom Lens on).
Frame – Base – Size – Weight
Heavy Solidly Built Boom Stand.
Solid Steel Boom Stand Base Plate.
Shipping Weight of Boom Stand (no scope head) is 51 Lbs.
Includes Rubber Eye Guards for Blocking Stray Light.
Includes Dust Cover.
Includes phototube with standard 23mm internal diameter for attaching standard microscope photography equipment.
Includes 1x c-mount for attaching standard ccd video camera equipment.
Ships in Molded Styrofoam Container for protection.
Manufactured under ISO: 9001 Standards.
110 VAC Power Requirement (Contact us about 220V availability).
High Quality Solid Construction!
Precision Made Glass Optics!
Brand New, Never Used!
Warranty is 5 years on all microscope equipment.
The microscope warranty covers problems arising from normal usage.
We will repair or replace your defective microscopy equipment as needed during the warranty period.
Optional c-mount with reduction lens for mounting to the trinocular port and attaching the ccd camera. This only affects the ccd video camera and not other photography equipment. It will reduce the ccd camera magnified image through the microscope trinocular photography port.
What are you waiting for? Buy Now!
---
Call our Sales Hotline at

or
Email sales@bargainmicroscopes.com