Typically Costing $6K+, Our Line of Epi-Illumination Microscopes provide Nice Quality at Unbelievable Prices!
Call our Sales Hotline at

Email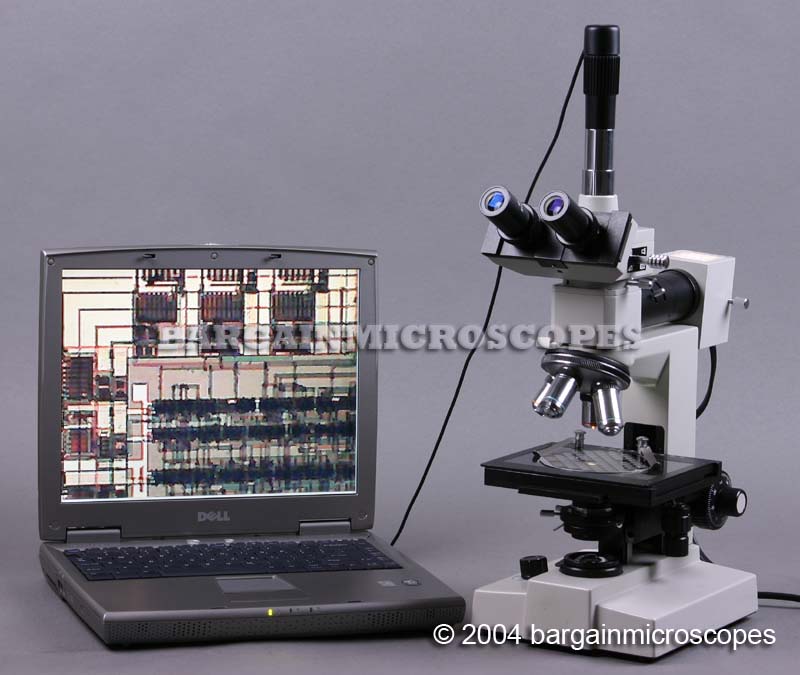 USB computer connected 3Mpixel camera is included. Laptop is not included.
Excellent Quality Upright Trinocular Professional Metallurgical – Metallographic Microscope!
Multi-Use Design Provides for Three Major Illumination Techniques: Epi-Illumination (reflected light) for Metallurgical Applications, Brightfield Transmitted Illumination (for transparent or biological specimens), and Darkfield Illumination Microscopy!
Ideal for Identification and Analysis of the Structure of Different Metals and Alloys.
Upright Design (Objectives Above the Stage).
Great for Detailed Inspection of a Metallic Surface.
Research Grade Performance with Highly Advanced Features and Optics!
Perfect for Metallurgical Laboratories, Foundries, Silicon Wafer Inspection, Industrial Applications, and Quality Control Labs!
Great Economical Price! Priced Thousands Lower than Competition!
Great for Viewing Opaque Surfaces – Light Travels Through the Objective and Reflects off Surface of Object and Back Into Objective!
No Worries about how to get Light to the Specimen's Surface!
Epi-Illumination Microscopy System: Light From Rear Housing goes through the Horizontal Shaft, Reflects Down through Objective to the Specimen, Reflects off the Specimen, and Back into the Objective and then to the Eyepieces.
Metallograph microscope with upper lighting through the objective.
USB computer connected camera included. Computer/Laptop not included.
Shape of microscope camera may vary from what is shown.

US Penny
Lincoln Sitting in Memorial
Photo Thru 10x Eyepiece
10x Objective
100x Total Magnification
Excellent Quality!

US Penny
Closeup of Date
Photo Thru 10x Eyepiece
10x Objective
100x Total Magnification


Pine Old Stem – 10 year old
Photo Through 10x Eyepiece
10x Objective
100x Magnification
Full Zoom In.

Plasmodesmata
Photo Thru Trinocular Port
Using Digital Camera – Full Zoom!
40x Objective
400x Total Magnification
Unlike most other metallurgical microscopes, this has a transmitted light setting. It has a separate illumination in the base with a glass stage.
This is a great feature that is useful for viewing transparent specimens since light shines through them from the base illumination.
This scope also has darkfield microscopy capability, with the inclusion of darkfield oil and darkfield dry condensers.
Camera Equipment Included
High Resolution 3.1 MegaPixel Digital Camera System.
Complete Digital Microscopy Solution Included.
Capture high resolution digital microscope images, 2048×1536 pixels.
View and record full motion live video microscope images. Frame size options for video mode: 2048X1536 (up to 11 FPS, depending on PC), 1024 X 768, 640 X 480, 512 X 384.
Computer connected digital microscope camera connects via USB2.0. Includes USB cable and MS Windows software.
Color DSP built into camera provides sharp quality color images. Image sensor size is half inch.
Includes measuring capability with the software.
FREE Microscope Measuring Kit Included: $350 Value!
Includes: Stage Micrometer with 1mm in 100 divisions, 0.01mm resolution for precise calibration of measuring reticle.
Includes: Extra WF10x Eyepiece with Built-In Measuring Reticle, X-Scale, 10mm in 100 divisions, 0.1mm Resolution.
Call Us Today to Discuss Your Measuring Needs and How This Microscope Will Work for You!
BONUS: Includes a carrying case with Precut Foam for safe transportation of your precision instrument.
Eyepieces and Magnification
Eight Magnifications: 40x, 64x, 100x, 160x, 400x, 630x, 640x, and 1008x.
Two Eyepiece Sets Included: Wide Field 10x / Wide Field 16x.
Four PLAN DIN Objectives: 4x, 10x, 40x (Spring Loaded), and 63x (Spring).
These PLAN Objectives are Superior Quality and the Most Expensive. The Achromatic and Semi-Plan as Found on Other Scopes are the Cheaper Quality.
Halogen Variable Intensity Epi-Illumination Light in External Rear Housing.
Halogen Variable Intensity Transmitted Light in Base.
Selector Switch to Choose Light Source.
Head – Interpupillary Distance – Diopter
45 Degree Inclined Trinocular Head, Rotatable 360 Degrees.
Adjusts to the Distance Between your Eyes: 55 to 75mm InterPupillary Distance.
Diopter Adjustment on Both Oculars to Correct for Your Specific Vision Needs.
Condenser – Iris – Filters
Epi-Illumination Microscopy System: Includes its Own Filter Holders, Aperature/Field Diaphragms and Diaphragm Alignment Screws.
Brightfield Transmitted Illumination Microscopy System: 1.25 N.A. Abbe Substage Condenser, Iris Diaphragm and Swing-Out Filter Holder.
Darkfield Microscopy System: Both Darkfield Dry and Darkfield Oil Substage Condensers Included.
Substage Condenser Movement Knob with Rack and Pinion Steel Gears and Condenser Alignment Screws.
Filters Included for Epi-Illumination Light: Yellow, Blue, Green.
Filters Included for Transmitted Light: Yellow, Blue, Frosted.
Large Graduated Mechanical Movable Stage: Size 136mm x 160mm.
Low Position Coaxial X-Y Slide/Stage Movement Knobs – Range of Movement: 74mm (X-Direction – Slide Movement) x 53mm (Y-Direction – Stage Movement).
Millimeter Graduations for Measurement of X-Y Stage Movement.
Glass Stage Plate! Great for using Transmitted Light Source.
Coaxial Fine and Coarse Focusing Knobs on Both Sides of Microscope.
Coarse Adjustment Travel Range: 37mm.
Maximum Distance From Bottom of Longest Objective to Top of Stage: 33mm.
Adjustable Lock Ring Stop to Limit Coarse Range to Protect Objectives and Specimens.
Tension Adjustable Coarse Focusing.
Frame – Base – Size – Weight
Total Overall Height of Microscope: 455mm.
Instrument Weight: 17 lbs.
Includes: Instruction Manual, Dust Cover, Extra 20W Bulb and Fuse.
Includes Three Metal Slides for Holding Specimens.
Manufactured under ISO: 9001 Standards.
110 VAC Power Requirement (Contact us about 220V availability).
High Quality Solid Construction!
Precision Made Glass Optics!
Brand New, Never Used!
Warranty is 5 years on all microscope equipment.
The microscope warranty covers problems arising from normal usage.
We will repair or replace your defective microscopy equipment as needed during the warranty period.
Optional 100x Dry Objective. This objective does not use immersion oil.
What are you waiting for? Buy Now!
---
Call our Sales Hotline at

or
Email sales@bargainmicroscopes.com