Need to view Tissue Cultures in the bottom of a Dish? We have a Microscope for You!
Call our Sales Hotline at

Email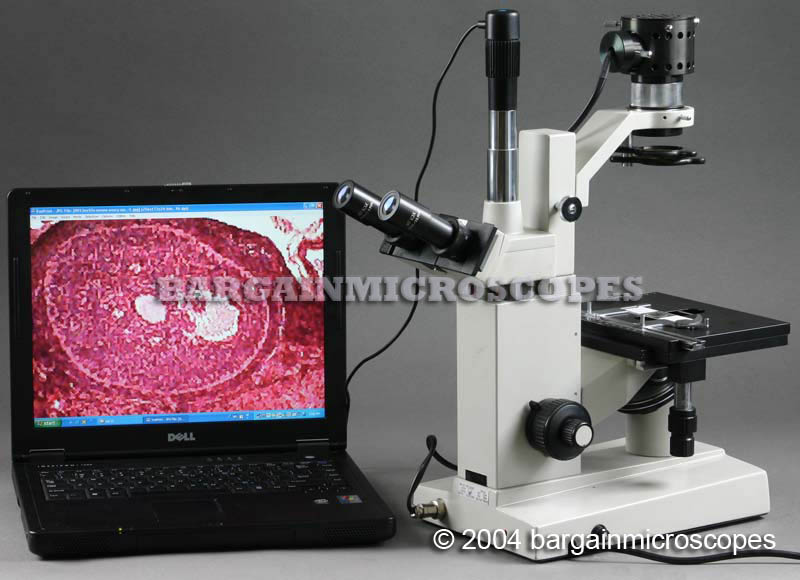 USB computer connected 3Mpixel camera is included. Laptop is not included.
Great Quality Trinocular Inverted Tissue Culture Microscope.
Perfect for examining tissue culture specimens in petri dishes.
Specimens are viewed from the bottom of the dish so the microscope objectives are inverted and point up.
Huge Savings! This identical scope sells for thousands more elsewhere!
Cell culture microscope with inverted objectives.
USB computer connected camera included. Computer/Laptop not included.
Shape of microscope camera may vary from what is shown.

Dog Rectum
Photo Thru 10x Eyepiece
10x Objective
100x Total Magnification
Excellent Quality!

Mouse Ovary
Photo Thru 10x Eyepiece
25x Objectives
250x Total Magnification


Dog Ureter
Photo Thru 10x Eyepiece
40x Objectives
400x Total Magnification

Dog Rectum
Photo Thru 10x Eyepiece
40x Objective
400x Total Magnification
Large open stage with easy access. This design is often preferred because the stage is more open and specimen more accessible than on comparable inverted tissue culture microcope.
Video Port and Camera Details
High Resolution 3.1 MegaPixel Digital Camera System.
Complete Digital Microscopy Solution Included.
Capture high resolution digital microscope images, 2048×1536 pixels.
View and record full motion live video microscope images. Frame size options for video mode: 2048X1536 (up to 11 FPS, depending on PC), 1024 X 768, 640 X 480, 512 X 384.
Computer connected digital microscope camera connects via USB2.0. Includes USB cable and MS Windows software.
Color DSP built into camera provides sharp quality color images. Image sensor size is half inch.
Includes measuring capability with the software.
BONUS: Includes a Carrying Case with Precut Foam for safe transportation of your precision instrument.
Eyepieces and Magnification
Seven Magnifications: 40x, 64x, 100x, 160x, 250x, 400x, 640x.
Two Eyepiece Sets Included: Wide Field 10x / Wide Field 16x.
Four DIN Plan Long Working Distance Objectives: 4x, 10x, 25x, 40x.
These PLAN Objectives are Superior Quality and the Most Expensive. The Achromatic and Semi-Plan as Found on Other Scopes are the Cheaper Quality.
Halogen Variable Intensity 50W Transmitted Light in Upper Housing. This provides a high intensity illumination for better optical imaging of cell cultures.
Head – Interpupillary Distance – Diopter
45 Degree Inclined Trinocular Head.
Adjusts to the Distance Between your Eyes: 55 to 75mm InterPupillary Distance.
Diopter Adjustment on Both Oculars to Correct for Your Specific Vision Needs.
Condenser – Iris – Filters
Above-Stage Long Working Distance Condenser, with Iris Diaphragm and Swing-Out Filters.
Condenser Centering Knobs for Precise Positioning of Condenser Over Objective.
Filters Included: Green and Yellow.
Rack and Pinion Steel Gears with Knob to Easily Move Condenser Up and Down Relative to Stage.
Large Mechanical Stage with X-Y Movement Knobs. Stage Size 190 x 145mm.
Low Position Coaxial X-Y Movement Knobs – Range of Movement: 75mm (X-Direction Specimen Movement) x 50mm (Y-Direction Stage Movement).
Coaxial Fine and Coarse Focusing Knobs on Both Sides of Microscope.
Coarse Adjustment Travel Range: 28mm (Stage Movement Distance Up/Down).
When Focusing, the Stage moves Up/Down Instead of the Objectives.
Adjustable Lock Ring Stop to Limit Coarse Range to Protect Objectives and Specimens.
Tension Adjustable Coarse Focusing.
Frame – Base – Size – Weight
Total Overall Height of Microscope: 465mm.
Instrument Weight: 21 lbs.
Includes: Instruction Manual, Dust Cover, Extra 50W Bulb and Fuse.
Manufactured under ISO: 9001 Standards.
110 VAC Power Requirement (Contact us about 220V availability).
High Quality Solid Construction!
Precision Made Glass Optics!
Brand New, Never Used!
Warranty is 5 years on all microscope equipment.
The microscope warranty covers problems arising from normal usage.
We will repair or replace your defective microscopy equipment as needed during the warranty period.
What are you waiting for? Buy Now!
---
Call our Sales Hotline at

or
Email sales@bargainmicroscopes.com