These are Great Value Student Grade Biological Microscopes at Super Low Prices!
Call our Sales Hotline at

Email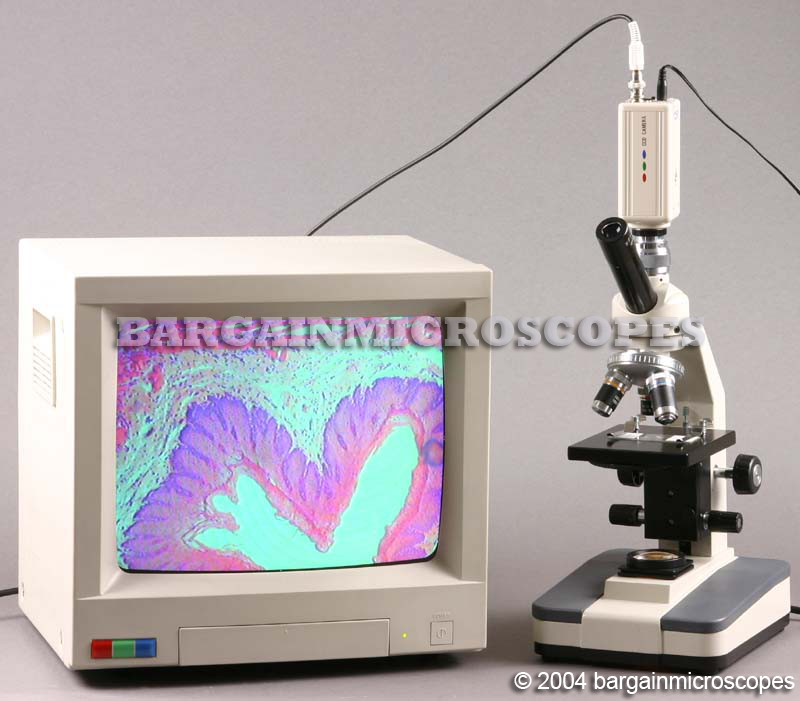 Multi-function USB computer connected camera with NTSC TV video output is included. Laptop/Monitor are not included.
Great Quality Compound Monocular Microscope with Built-In Video Photography Port!
View Prepared Biological Slides, or create your own specimens for a Great Learning Experience!
Great Scope for Students, Teachers, Hobbiests, or for anyone wanting to learn more about the Micro World!
Clear and Bright Biological Images through Premium Optics!
Attractive Economical Price! Priced Hundreds Lower than Competition!
Brightfield microscopy with this compound light microscope.
Monitor NOT INCLUDED.
CCD video camera is included.

Onion Epidermis
Photo Through 10x Eyepiece
40x Objective
400x Total Magnification
Clear Optics!

Mosquito Whole Mount
Larval Form
As Seen Thru 10x Eyepiece
4x Objective
40x Objective


Rabbit Spinal Cord
Photo Through 10x Eyepiece
100x Total Magnification
Excellent Quality!


Spider Prepared Slide
Photo Through 10x Eyepiece
40x Total Magnification
Clear Optics!

Sambucus Willramssii – Dicot Stem
Photo Thru 10x Eyepiece
Under 40x Objective
400x Total Magnification
Camera Equipment Included
Dual Usage Camera Included! Connect to both CCTV Monitor/TV or Computer!
This is a unique two-in-one camera that allows both common microscope camera outputs. Normally, you need two separate cameras to get this functionality.
Capture 720×576 pixel digital still and digital video via the USB input on your laptop computer.
Output live video to a CCTV monitor or normal Television using the NTSC composite video-out giving 420 TV lines and 370K pixels. PAL format available upon request.
Microscope camera kit includes dual-usage camera, USB cable, Video cable with RCA jacks, autovolt power adapter, and Windows software.
BONUS: Includes 50 high contrast stained and prepared microscope slides. Great variety of zoology, biology, and botanical specimens for hours of learning fun.
BONUS: Includes a FREE pack of 50 blank glass microscope slides!
BONUS: Includes a FREE pack of 100 new microscope 22mm square glass cover slips!
This is a much needed kit. If you purchase a microscope set without these necessary accessories, you will find you have nothing to begin viewing.
Eyepieces and Magnification
Six Magnifications: 40x, 60x, 100x, 150x, 400x, and 600x.
Two Eyepieces Included: Wide Field 10x and Wide Field 15x.
Three DIN Achromatic Objectives: 4x, 10x, and 40x.
Spring Loaded 40x Objective to Protect Slides.
High Wattage 110V/20W Base Transmitted Illumination.
Head – Interpupillary Distance – Diopter
45 Degree Inclined Monocular Photography Head, Rotatable 360 Degrees.
Photography/Video Port on Top of Head.
Substage Disc Diaphragm for Lighting Control.
Large Stage with Slide Clips.
This microscope has a large stage as well as two slide clips that hold the prepared microscope slide in place while observing the biological specimen.
Fine and Coarse Focusing Knobs on Both Sides of Microscope.
Tension Adjustable Coarse Focusing.
Adjustable Screw-Stop to Limit Coarse Range to Protect Slides.
Frame – Base – Size – Weight
Total Overall Height of Microscope: 15 Inches (390mm).
The Base is 8×7 Inches (210mm x 170mm).
Instrument Weight: 8 lbs.
Includes extra bulb and fuse plus instruction manual.
Includes cmount for attaching standard ccd video camera.
Includes standard photography tube for attaching various microphotography equipment.
Ships in Molded Styrofoam Container for protection.
Manufactured under ISO: 9001 Standards.
110 VAC Power Requirement (Contact us about 220V availability).
High Quality Solid Construction!
Precision Made Glass Optics!
Brand New, Never Used!
Warranty is 5 years on all microscope equipment.
The microscope warranty covers problems arising from normal usage.
We will repair or replace your defective microscopy equipment as needed during the warranty period.
What are you waiting for? Buy Now!
---
Call our Sales Hotline at

or
Email sales@bargainmicroscopes.com