Need a Low Cost Solution for Darkfield and still have Capability for Video Monitor Viewing? Here It Is!
Call our Sales Hotline at

Email

Price: $ 3,299.98
Model: bm027e000m
Shipping/Handling/Insurance: $ 89.98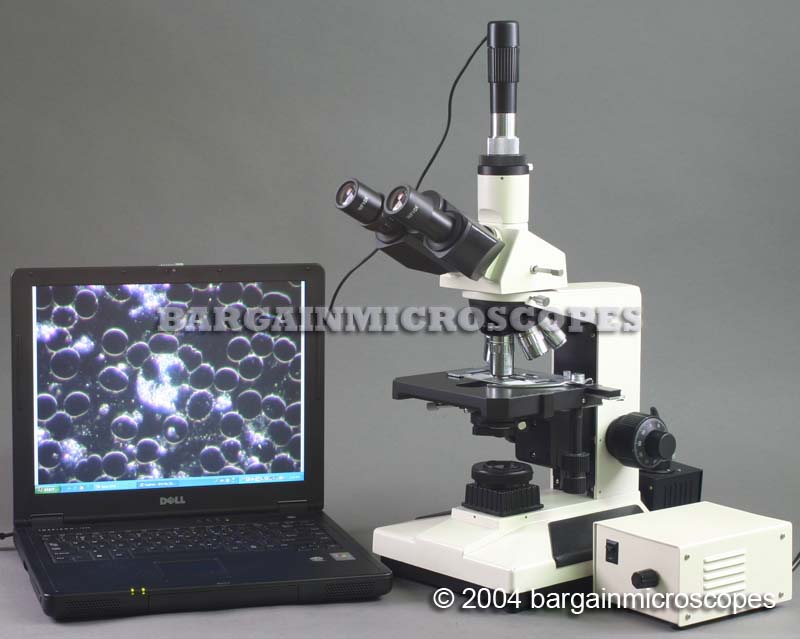 USB computer connected 3Mpixel camera is included. Laptop is not included.
Monitor not included.
Ultra-Darkfield Medical Live Blood Analysis Microscope!
Ability to Obtain True Ultra-Darkfield Illumination using a Super High Intensity 350 Watt Light!
Get the Best of Both Major Microscopy Techniques: Ultra-Darkfield and Brightfield.
Perfect for Viewing and Analyzing Live Blood Cells Using Ultra Darkfield Microscopy!
Includes Brightfield Capability for Analyzing Dry Blood Layers!
Great for Alternative Medicine Doctors, Veterinarians, Health Clinics, and Medical Technicians.
Don't buy the Competition's High Priced Systems at $10,000. We have what you need for less!
Our Special Fiber Optic Illuminator is over Twice the Intensity as Competition, resulting in Brighter Imaging of Darkfield Microscopy Features in the Blood.
Darkfield Iris built into the two oil immersion objectives, 50x and 100x, allowing more fine adjustment using darkfield microscopy.
Microscope Style has been changed from what is shown.
Monitor and Laptop not included.
USB computer connected camera included. Computer/Laptop not included.
Shape of microscope camera may vary from what is shown.


Live Human Blood Smear
as seen through DARKFIELD
100x Objective with Immersion Oil
1000x Total Magnification
Photo Taken Using a Digital Camera
Attached to Trinocular Port

Cheek Cells
in Phase Contrast
Taken Under 40x Phase Objective
400x Total Magnification


Human Blood Smear
Taken Under Darkfield Microscope


Human Blood Smear
Taken Under Darkfield Microscope
Video Port and Camera Details
High Resolution 3.1 MegaPixel Digital Camera System.
Complete Digital Microscopy Solution Included.
Capture high resolution digital microscope images, 2048×1536 pixels.
View and record full motion live video microscope images. Frame size options for video mode: 2048X1536 (up to 11 FPS, depending on PC), 1024 X 768, 640 X 480, 512 X 384.
Computer connected digital microscope camera connects via USB2.0. Includes USB cable and MS Windows software.
Color DSP built into camera provides sharp quality color images. Image sensor size is half inch.
Includes measuring capability with the software.
BONUS: Includes a Carrying Case with Precut Foam for safe transportation of your precision instrument.
Eyepieces and Magnification
Brightfield and Darkfield Magnifications Through Eyepieces: 40x, 100x, 200x, 400x, 500x, and 1000x.
Eyepiece Set Included: Wide Field 10x.
Five PLAN DIN Brightfield Objectives: 4x, 10x, 20x, 40x, 50x (Oil), 100x (Oil Immersion). The 50x and 100x are dual usage with built in darkfield iris.
The objectives are the Higher Grade DIN Standard PLAN.
Quintuple Five Position Nosepiece. Reverse facing to keep objectives out of the way.
Darkfield Illumination: High Power 350W Xenon variable intensity external fiber optic illumination system.
The Xenon lamp normal service life is 300 hours compared to the lower grade and cheaper Halogen bulb which is 50 hours. Xenon Illumination provides accurate daylight 5600K color temp, far superior to halogen.
Brightfield Illumination: High Power 50W Halogen Variable Intensity Transmitted Light in External Housing.
Includes Koehler Illumination Focusable Field Diaphragm for Brightfield Microscopy.
30 Degree Inclined Trinocular Head (Easier to View than 45 Deg.) Rotatable 360 Degrees.
Adjusts to the Distance Between your Eyes: 55 to 75mm InterPupillary Distance.
Diopter Adjustment to Correct for Your Specific Vision Needs.
Condenser – Iris – Filters
Darkfield Oil Condenser Included (N.A. 1.36 – 1.25), with centering knobs.
Brightfield Condenser Included (1.25 N.A. Abbe Substage, Iris Diaphragm and Swing-Out Filter Holder).
Filters Included: Blue and Frosted White.
Rack and Pinion Condenser Movement System and Condenser Alignment Screws.
Large Graduated Mechanical Movable (up/down and longitudinal Y-direction) Stage: 140 x 160mm..
Low Position Coaxial X-Y Slide/Stage Movement Knobs – Range of Movement: 75mm (X-Direction – Slide Movement) x 48mm (Y-Direction – Stage Movement).
Stage moves Forward/Backward, which is a better feature than a simple slide mover as most scopes have.
Coaxial Fine and Coarse Focusing Knobs on Both Sides of Microscope.
Coarse Adjustment Travel Range: 30mm. (Stage Movement Distance Up/Down).
Fine Adjustment Division: 0.002mm.
Coarse Focusing Tension Adjustment and Range Limit Adjustment Knobs.
Frame – Base – Size – Weight
Total Overall Height of Microscope: 401mm
Microscope Weight: 18 lbs. Weight of external fiber optic illuminator 12 Lbs. The fiber optic illuminator ships in separate box from the microscope system.
Includes dust cover, immersion oil, and fuse.
Includes phototube (standard 23mm ID) for attaching various microphotography equipment.
Includes rubber eyeguards for blocking out stray ambient light from the room when doing darkfield microscopy.
Manufactured under ISO: 9001 Standards.
110 VAC Power Requirement (Contact us about 220V availability).
High Quality Solid Construction!
Precision Made Glass Optics!
Brand New, Never Used!
Warranty is 5 years on all microscope equipment.
The microscope warranty covers problems arising from normal usage.
We will repair or replace your defective microscopy equipment as needed during the warranty period.
Optional Phase Contrast Microscopy Kit.
Optional special black and white darkfield camera with ultra light sensitivity. Single USB camera takes high resolution digital still images and does full motion live video on computer screen.
What are you waiting for? Buy Now!
---
Call our Sales Hotline at

or
Email sales@bargainmicroscopes.com