Having Eyestrain or Neck/Back Pain when viewing through a scope for hours each day? Try a Video Zoom Microscope! Use it for Ergonometric purposes, or to demonstrate on a monitor for All to See!
Call our Sales Hotline at

Email

Price: $ 90.00
Item code: A138
Shipping/Handling/Insurance: To be determined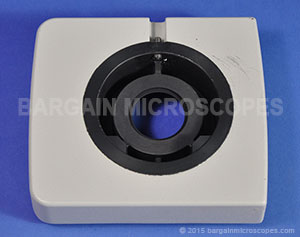 Description:
Nikon Y-IER Spacer for E400 Eclipse Microscope.
This fits between the top of the frame and the head. It elevates the head some to help with ergonomics.
Excellent condition, with some minor scratch marks on the paint.
Made in Japan.