Having Eyestrain or Neck/Back Pain when viewing through a scope for hours each day? Try a Video Zoom Microscope! Use it for Ergonometric purposes, or to demonstrate on a monitor for All to See!
Call our Sales Hotline at

Email

Price: $ 120.00
Item code: A133
Shipping/Handling/Insurance: To be determined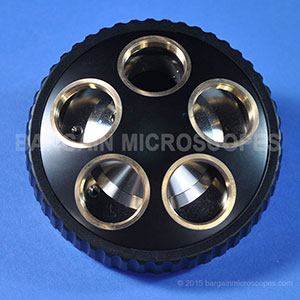 Description:
Olympus five place Objective Nosepiece.
Fits BX-40 microscopes.
Openings for five objectives.
Has well defined positive click-stops.